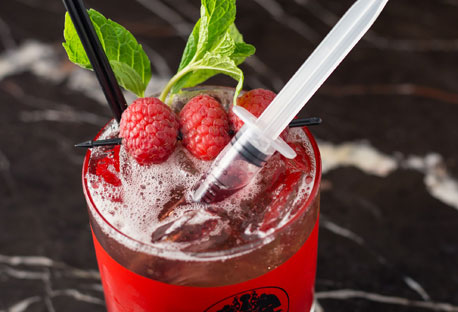 Celebrity SpyTender & SpyTender Battles
Monday - Wednesday | 5:30-7:30pm
based on bookings
Become a Celebrity SpyTender and whip up some crafty cocktails for colleagues, friends, and family. Or, put your skills to the test and battle another SpyTender for bragging rights. A great way for Chicago organizations to participate in unique fundraising where 20% of bar revenue & 100% of tips will be donated to a charity of your choice. Come support these great groups as people from the organization and community SpyTend for a cause. *Minimum 20 guests.
Request Your Date
Promote Your Event
See All Events
INFO SHEET

THINK YOU HAVE WHAT IT TAKES TO BE A SPYTENDER? (Requirements)
SpyTending events work best for groups that:

• Are non-profit – 501c3 status is required to participate in the program
• Have a lot of friends that like to eat and drink – since you earn 10% of the profits, the more people buy, the more your group earns
• We request a minimum of 10 planned attendees and require a $250 spend on food and beverage
• Know a lot of big tippers – all tips from the event go back to your organization!
• Have a competitive edge – the most successful groups often have SpyTenders who battle it out, divvying up the time slow between two bartenders and encouraging a face off to see who can drum up the most sales/tips!
• Like to have a good time – this event is meant to be fun for all.
• Have a large Facebook following – check out our top tips for promoting your event and spreading the word!
• Plan in advance – for best results, we recommend a minimum of three months advance notice to properly promote your event
• Know how to start the work week off right – SpyTending events are limited to Mondays and Tuesdays from 5:30-7:30, the perfect way to celebrate Happy Hour, if you ask us!